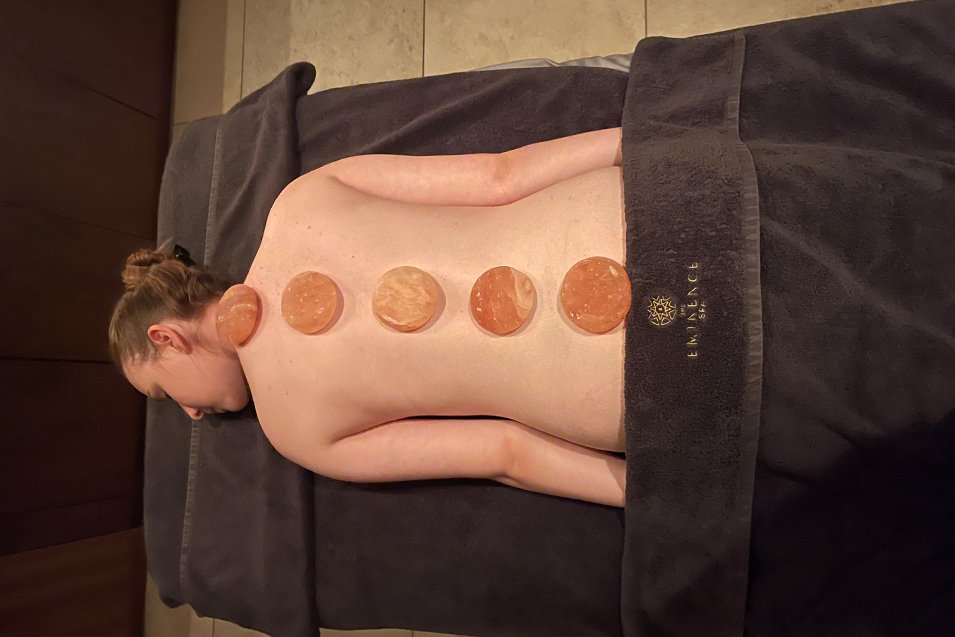 Himalayan Salt Stones in Massage
Dating back many years, natural salt has used to enhance healing. People visited salt caves to find relief from a wide range of health issues, to enhance breathing, to improve skin health and to reduce stress.
Today, specially shaped Himalayan salt "stones" are heated to provide a unique therapeutic massage that offers salt's healing benefits during a massage. Here are the benefits of a Himalayan Salt Stone Massage:
The greatest benefit from receiving a Himalayan Hot Stone massage are the stones ability to promote deep relaxation
It reduces Inflammation When there's too many positive ions in the body, it can lead to inflammation. Since the salt stone have negative ions, being massaged with the stones help to balance the positive and negative ions in your body and alleviates some inflammation you may be experiencing. *Interesting fact: walking barefoot on the earth balances ions in the body – a good practice in between your massage visits.
Himalayan salt contains more than 84 trace minerals that are absorbed by your body during a hot Himalayan Stone massage, serving to fill up minerals lost during hard workouts or ongoing stress.
These minerals give a delicate exfoliation on the skin giving you smoother, softer skin immediately after your massage session. You'll walk out feeling comfortable and relaxed in your new supple skin.
Himalayan Salt Stone Massage Leaves the skin feeling refreshed and glowing. The salt stones moisturize and plump up the superficial layers of the skin.
Himalayan Salt Stone therapy is an innovative healing technique that we now offer guests at Eminence Spa Wyndham Garden Ajman Corniche . This treatment takes the traditional warm stone massage to an entire new level, replenishing your body with Important trace minerals while the warm salt stones combined with sage and cedar oil create the ultimate remedy for sore muscles. These beautiful stones have been hand carved into massage stones that your therapist will use to soothe and mineralize to cut back pain and inflammation.
For more inquiries call 050 1069066, 06 7014444